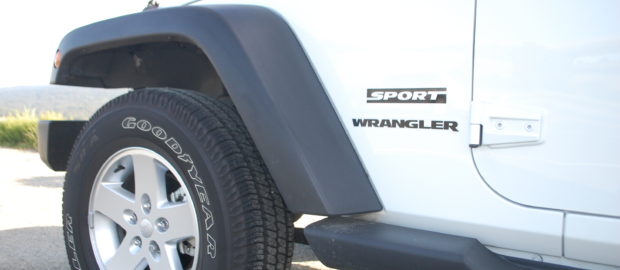 With the introduction of the "JK" Jeep Wrangler in 2007, there were a great deal of changes from previous generations of Jeeps. Does this make the latest Wrangler a true daily driver, or has Jeep bumped up the options list in an effort to bring in a few extra bucks on a vehicle that's really only meant for one thing?
As much as I want to do an off-road review for sake of slinging mud and dirt all over the shiny white paint of this 2016 Wrangler Sport, that's not the point of this review. Plenty of magazines over the years have proven that the latest Wrangler is a competent 4×4. Given that nearly everything on a Wrangler is an option, these rigs can get pricey very quickly. If your only concern is having 3.73 gears and locking diffs, then you can keep the price of the JK around the 30k mark. The moment you start adding any creature comforts or various appearance packages is when you're on your way past 40 large, and that's still having only two doors (if you want the 4-door Unlimited model, add nearly $4000 to the base price).
Die-hard fans don't have to worry about the latest Wrangler getting too soft, as all the panels still retain their Jeep-ness with easily accessible fasteners and connectors in case you need to swap in a replacement.
Distant Cousin
Unlike the previous TJs, YJs, CJs, and original Willys, the JK is much larger in nearly every aspect. Interestingly enough, the JK is a few inches shorter than the older TJ model, but you'll forget that pretty quickly once you hop inside. Depending on your location, you could rent out the interior as a small studio well above market rate.
Both the front and back seats are easy to get in and out of, and have plenty of headroom for adults of all shapes and size. Rear cargo space can be on the small side as the tailgate area is limited to a few bags of groceries. Thankfully the rear seats can be folded down, opening up extra room for those trips to Home Depot or Ikea.
While still apparent this is a Jeep, leather on the steering wheel, chrome accents throughout the interior, and a fancy sound system indicate that the latest generation of Jeep is not afraid to take a step towards luxury. The exterior follows suite with sleeker styling and fog lights integrated into the front bumper. Die-hard fans don't have to worry about the latest Wrangler getting too soft however, as all the panels still retain their Jeep-ness with easily accessible fasteners and connectors in case you need to swap in a replacement.
Under the hood though is another radical departure for the hardcore aficionados. Long gone are the famed AMC derived straight 4 and 6 cylinder engines, and in their place sits a 3.6 liter V6 pumping out a sizeable 285 horsepower and 266 lb-ft of torque (starting with 2012 models). If shifting the 6 speed isn't your style, a 5 speed auto is another welcome addition to the latest round of Wranglers.
Behind the wheel there's no denying the widened track. This Wrangler makes its presence known on both city streets and the freeways. With a curb weight approaching two tons, steering feel borders on sloppy at freeway speeds, but the steering box's slow ratio is designed with off-road situations in mind, so there's no reason to get too upset. While the extra power is welcome, coming to a stop from speeds above 65 mph can be a bit dicey, as the front suspension exhibits quite a bit of nosedive under hard braking. Some may see this as a bad thing, but if anything, it's a friendly reminder that a Jeep isn't meant to go speeding around. Listen to Glenn Frey and take it easy.
This particular Wrangler has the optional hardtop, which is a must have for daily driving. With the hardtop in place, the only noises that persisted were from the tires and the wind pounding on the Jeep's laughably aerodynamic proportions. As to be expected, the hardtop adds a 130 lb weight penalty to the already heavier JK chassis. At $1000, it's also not a cheap option, but you'll pay even more down the line trying to find one second hand, so it's best to bite the bullet while you're still at the dealership.
Matured Wrangler
The entire time driving the Wrangler, I couldn't help but wonder why someone would want to daily drive a vehicle that isn't practical in the traditional sense. My definition of a Wrangler is a bare bones 4×4 that'll get you over any terrain you choose, possibly beating you up in the process. That's just it though, this Jeep isn't meant for me.
Yes, there are plenty of 4×4 accolades still linked to this latest Wrangler, but compared to the CJs, YJs, and TJs that changed marginally in the 40+ years, this new Jeep seems so drastically different. The JK Wrangler is a grown up Wrangler meant for just that…grown-ups.
To put this into perspective, consider the following: As exhilarating as fighting the elements can be for a young person, there comes a point when we all have to tone it down for sanity's sake. When the previous Wranglers were fresh off the production line, the people buying them were also young. As time has progressed, many of these people's lives have become more complicated thanks to careers and children. That doesn't mean they don't yearn for wheelin' their Jeep out in the back country, but free time can be sparse. So why not get a taste of nostalgia during those times when you have to run errands or drop the miniature people off at school.
Does that justify the price hike of a new Wrangler though? Inflation has played a small role, but that still doesn't answer the entire question. I later learned though that the JK shares few parts with the rest of the Jeep lineup. Many of the Wrangler's parts are unique, making the tooling and production costs that much higher (especially in the age of parts bin specials…just ask the VW and Audi crowds). Knowing the challenges the JK Wrangler faces as a new vehicle, the more respect I have for it. A lot of the modern four wheel drive SUVs have inevitably made the switch to independent suspensions, but the Wrangler has kept at it after all these years with its solid-axle-or-go-home attitude. Also, what other vehicle says, "Hey, you can have doors, but only if you really want to." Perhaps that's the cost to set yourself apart from everyone else on the road. Chances are most people whose Jeeps stick to the pavement won't take advantage of these attributes, but at least they'll be properly equipped if the situation presents itself.
Still Ready for Action
The more I delve into the world of 4×4 vehicles, the idea of a Wrangler becomes more entertaining. For my money, a TJ or a YJ with a 4.0 is the Jeep experience I seek. Then again I like the classic looks and minimal technology updates. If I could only have one vehicle though, the JK is a better daily driver, no questions asked. Ultimately, any true 4×4 is going to have its compromises if you want to use it as your main mode of transportation, but unlike the majority of automakers today, Jeep has firmly stuck to its roots. No glorified AWD station wagons here.
Just remember, a Jeep is still built to hit the trails. Not that every Wrangler needs to be thrashed crawling over boulders to the tune of country music and Coors Light (Hey, no drinking and driving!), but if you're going to own one, you do owe it to your Wrangler to let it loose in its element. Be warned though, it's a slippery slope. And the only way back up is with 35 inch all-terrains, heavy duty axles, and a winch.
-JC
SPECS