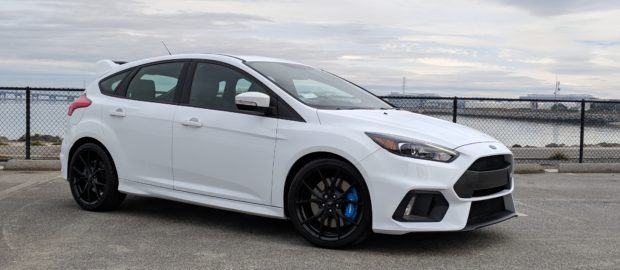 We've all been waiting for this. After a painfully long process to sell the Miata, the infamous Milton has finally purchased a new car. Not just new-to-us, but genuinely a new car that came with seats wrapped in plastic and lots of zeros in the odometer NOT preceded by a "1" or "2". And it's a Ford of all things! Alright, that might be a bit misleading. It's a Ford Focus that just so happens to come equipped with a hairdryer and the ability to send power the front wheels and rear wheels. Yup, it's the Focus RS.
The grip is so immense that you can easily double the posted corner entry speeds without blinking an eye. Not that anyone would do that on a public road…
Looks Just Like a Focus
There's no doubt we're late to RS party, but hopefully the hype has subsided by now that we can see the car for what it is. First things first, this is a $40K car, meaning it's more than double the price of a base Focus. The reason for bringing this up is that this car has econo-box roots, so the end goal is to see if the extra premium is warranted.
Thankfully Mr. Milton didn't get the crazy Nitrous Blue, and instead opted for Frozen White. Aside from the black forged wheels and an aggressive front end treatment, and roof spoiler, you can still identify the RS as a Focus. Don't get me wrong, there's plenty of RS badging, but not enough to attract more attention than necessary.
Inside the cabin is where things start to deviate from your boring commuter car grade Focus. A set of Recaro seats with very pronounced bolsters show you that this car means business. The steering wheel has special stitching, and a Sony sound system will play your tunes or phone calls with the utmost clarity. This particular example is equipped with the RS2 package, meaning it has a moon roof, suede inserts on the seats, heated seats and steering wheel, and I'm sure the list goes on.  The interior is nicely appointed, however it's a nice place for the front occupants. The rear seats are decently roomy and have matching upholstery, but that's about as far as it goes. Then again, someone isn't buying this car for the back seat, rather that it has a back seat. Thanks to the hatch configuration, the rear seats easily fold down, so if you are one of those Best Buy and/or Ikea shoppers that leaves with big boxes, the cargo capacity is there when you need it.
Now that we know the Focus is still a Focus where it needs to be, it's time to get down to brass tacks. The real reason someone truly buys this car is because they're in the market for a rally car with a license plate. The chief players in this segment have always been the Subaru WRX STI and the Mitsubishi Lancer Evolution. Unfortunately the Evo went bye bye, so that leaves the Subie and its sideways baseball cap, vape pen crowd to be the only competition at this point. Sure there's the VW Golf R, but it's ultimately aimed for a different clientele. This meant Ford had to make something extra special if it wants to swoop sales from those youths.
Under the hood sits a transverse 2.3 liter EcoBoost inline four. The engine is also found in the 4 cylinder Mustang, but the RS receives special treatment and bumps power up to 350 horses, and 350 lb. ft. of torque. Boost is over 23 PSI at peak, which is high strung in itself. Combined with the all-wheel drive system that can do its fancy torque vectoring black magic, the Focus RS is a weapon on wheels.
Hit the push button start the car fires right up. The Recaro seats are bulky and you feel like you're sitting a bit high, but people over 6 feet still have ample headroom. Controls are within easy reach, and fairly intuitive after spending a few minutes learning what everything does.
All the things your hands and feet touch are nicely weighted. With transverse front wheel drive origins, the cable operated shifter does have the numbness you'd come to expect, yet not a big deal in the scheme of things. Throws are short between all 6 gears, and reverse has a lockout to prevent any embarrassing stoplight mishaps. Steering feel has surprisingly good feedback for an electric rack setup. While the purists will moan and groan for a hydraulic system, electric is the future and becoming more prevalent. More relevant is that the smaller Ford Fiesta ST also uses an electric setup, but doesn't have nearly the feedback at low speeds. Then again, it retails at nearly half the price of an RS. A big hit to the RS that can't be ignored is the abysmal turning radius. Every parking lot becomes a test of driving prowess because you're always wondering if you have enough room to swing wide, or else you'll have to perfect the art of 3-point turns…or 5.
Ragin' on 'Roids
It might seem like the car isn't quite living up to the hype, nor price point by now. This is where the tables turn. Switch the car to sport mode and the exhaust does the WRC inspired snap-crackle-pop when letting off the throttle. More importantly the suspension firms up and the Focus is ready to tackle any corner you throw at it. Even the sloppiest of drivers need not worry, as the drivetrain will claw chassis out of most careless maneuvers, which can be especially entertaining in itself. Despite being a modest 235mm in wideth, a lot of credit goes to the optional Michelin Pilot Sport Cup 2 tires are some of the best currently on the market. The grip is so immense that you can easily double the posted corner entry speeds without blinking an eye. Not that anyone would do that on a public road…
Since the RS is still quite new, we didn't want to abuse it too hard as the engine is still breaking in, but that didn't stop us from doing a few hard pulls. All I can say is WOW. The boost is instant and just shreds through the gears. It's certainly an eye opener for someone not familiar with this car. By no means is it hypercar crazy, but in all honesty, it's seriously a quick car. Part of this can be attributed to the aggressive gearing. With a 4.06 final drive, and 6th gear functioning as an overdrive in name only (.94…c'mon), the RS is always ready to fire away once you mash the loud-pedal. There's even Drift Mode  for those instances when you feel the need to wag the RS's tail. It's especially handy for destroying at least 1200 dollars worth of rubber!
Just as fast as you can get into trouble, you'll be able to stop it. The braking is just as serious thanks to 4-pot Brembo calipers up front. I had accidentally panic stopped and both Milton and I had to collect our eyeballs on the dashboard. We both agreed the RS will get rear ended before going nose first into someone else's rear bumper. Pretty good for a 3500 pound chunker.
Swiss Army Ride
Once all the juvenile antics have come to a close, how is this car to live with? For day to day driving in the standard drive modes, the RS is surprisingly mild. The interior is very quiet, as a considerable amount of engine/exhaust noise is pumped through the speakers. Gas mileage does leave something to be desired during city driving, particularly with a small tank (sub 14 gallons) and a lead foot. This is somewhat expected given the power output of the RS though. Fuel economy is somewhat better on the freeway at 25 MPG, assuming you don't get into a heated battle with other boosted road-going rally fighters.
For what is effectively a sport compact car, the Focus RS feels large. Between the deep dashboard, disappearing hood line, and the poor rear visibility, it can be quite tough to pinpoint each wheel's location. This is especially a concern in tight parking spaces or heavy traffic lane changes. In fairness, that's just the case with most modern cars. In a certain sense it makes the driver feel slightly isolated from the road, but all those airbags and crumple zones have to go somewhere.
For as much fun as the Focus RS might be, the price point is still a tough pill to swallow. While an STi commands a similar MSRP, it does hold it's value well and the drive-train is fairly proven, even at higher mileages. The Focus RS on the other hand is still the new kid on the block, especially for U.S. customers, so we'll see if the fanboys stick around once it's out of warranty.
Interestingly enough, a lot of people don't seem to know very much about the Focus RS. Aside from the usual flock of car geeks, the majority of friends and family who've seen the new Milton-mobile don't quite understand why Milton bought "just a Ford Focus." This is probably due to the lack of a crazy color and ginormous wing more commonly associated with the Toyota-Baru crowd. Usually all it takes is a quick spin around the block for the RS to gain the nod of approval from those who weren't initially in the know.
I do understand why Milton made his purchase though. It's a solid balance of practicality, speed, and technology. The styling isn't as flashy either which makes for a better daily driver. And while it may cost a couple bucks more than someone might want to pay, it's genuinely one car that can do it all. Perhaps convenience of packaging is worth the price alone. Otherwise you'll end up with a separate car for each and every occasion (and that gets expensive very quickly!). Whether Milton can keep his hands off modifying it, the tables will be open for betting shortly. I'd like to place 100 dollars on "Warranty Voided", please.
-JC
SPECS