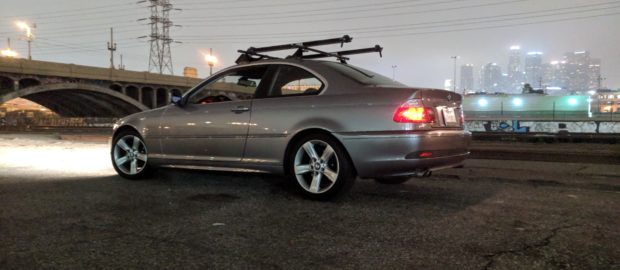 A new car is always the best car, right? It will have the latest gadgets, a warranty, and even an odometer reading below six digits (which is still a bewildering concept). After many years of wanting a new car, Michael Urban eventually got his wish. His brand new F30 BMW 328i was everything he wanted, optioned exactly to his specifications. Two years later, he traded in the car and is now back to driving his 2006 325Ci. An old, used car with over 100,000 miles on the clock. What could possibly be the appeal?
The Right Move
There was once a time when this was still a reasonably new car. To be exact, the car was only 4 years old when Michael purchased it with a little over 45,000 miles on it. It was a lease return at Stevens Creek BMW of San Jose, and it was ready for its next owner. Michael was still in college at the time, but after his new, "sensible" Honda Civic had given him nothing but trouble, he decided he may as well drive something he'd enjoy.
While it may not appear special, Michael's e46 is without a doubt unique. Being a 2006 model, it's a very late production e46. So late in fact, that the next generation e90 3-series was already being sold. Additionally, the car was equipped with the SULEV M56 engine, which was a special version of the 2.5 straight six developed for low emissions compliance in states such as California, Massachusetts, and New York. Supposedly the SULEV cars are rated at 184 horsepower like a regular 325i, but it's believed that may be a bit optimistic. Toss in a 5-speed automatic gearbox, and the SULEV gets moving when it feels like it. All of this is ok though, because nobody expects this car to set any lap records.
Maintainifications
Unlike the rest of the hooligans that you typically read about on this site (myself included), Michael has taken an unusual approach to his car ownership. His car is…wait for it…completely stock and unmodified. Blasphemy! Apparently when something breaks on the car, he simply fixes it. And not "fix" it by purchasing performance parts that introduce new problems. With that in mind, Michael's e46 is pretty much how it rolled out of the factory more than a decade ago.
The odometer may read a little over 130k, yet the 325 remains in excellent mechanical shape. Not long ago it had the suspension refreshed with the OE Sachs shocks and struts. The stock suspension in good working order is a friendly reminder that these cars handle and ride very nicely out of the box. It's still firm enough to induce confidence around any tight bends, but by no means harsh. Also, at stock ride height the suspension still has plenty of travel, so bumps and imperfections in the road won't rattle the interior to smithereens. Maybe they were on to something in Munich…
The only thing that seems out of place on the e46 is the heavy steering at low speeds. Great for road feedback, but lazy arms may tell you to circle the block before attempting to parallel park.
Having driven an e30 and e36 for a number of years, one starts to understand the subtleties that make each iteration of the 3-series different. Representing the fourth round of the famed sports sedan, the e46 is a smidge wider. Not by much, but enough to make the interior feel that bit less cramped. Additionally, the controls and switchgear feel much more substantial than the flimsy interior of its predecessor…the e36. While the e46 still makes good use of plastic, the fit and finish is considerably improved. It's a small detail, but it greatly adds to the overall satisfaction as more time is spent behind the wheel.
The Modern Traditionalist
The 325Ci is just a nice used car at the end of the day then, right? True, but there's more to the story than just that. It marks the end of an era for the "traditional" 3-series. The e46 is the end of the boxy styling, and it's the last model line dedicated to the naturally aspirated inline 6 (at least in the United States). More importantly, it's a reminder of a car that was built to a standard, not to a price point. Even as the entry level 3-series coupe for 2006, the 325Ci still hovered around the $40,000 mark once optioned. Purchasing a BMW was still a big deal at that time, and as a result, buyers received a premium product, even when equipped with a modest engine.
What happened then? Like most automakers, BMW still needs to keep the lights on. Priorities shift, and in the quest for the almighty dollar and stricter design standards, new cars lose some of the character that attracted buyers to the brand in the first place. That's also why many drivers (much like Michael) keep coming back to the older models, especially now when these cars can be had for cents on the dollar.
While the e46 M3 has slowly trickled up in value for clean examples, cars like the 325 and 330 remain very affordable and still provide a similar driving experience. If anything, the non-M cars benefit from more restrained styling. There are no massive flares, and no garish vents or hood bulges. Just a clean BMW design that anyone can appreciate. Since there are no ///M badges, upkeep is relatively affordable, especially for the weekend mechanic. No, it's not going to be as reliable as a Toyota Camry that merely needs gasoline and maybe an oil change after 40,000 miles, but that's the trade-off to drive something with a little more panache.
Ultimately it will come down to personal preference, as a new BMW will still provide the most frills and the latest gizmos. However, five or ten years down the line when the onboard infotainment system becomes outdated like yesterday's iPhone, will the rest of the car still be as enjoyable? Only time will tell. If you need to have the latest and greatest, then new cars are always going to be the ticket.
On the other hand, if you're ok with something a little older and plan to keep it long term, give the e46 a solid look while prices remain reasonable. In the not-too-distant future, all the affordable cars will have been turned into track rats or trashed by teenage boys who think muffler deletes and Plasti Dip are the best ways to impress girls. That means find a clean example sooner than later. Keep it in good condition, and the e46 3-series will always look and drive the part. Before you know it, herds of old men in parking lots will be bickering over your car's originality as they sip their Sunday morning coffee.
-JC
SPECS
Year: 2006
Color: Silbergrau Metallic
Drivetrain: Front Engine, Rear-Wheel Drive
Engine: M56 2.5 Liter DOHC Inline-6 (SULEV)
Transmission: 5-speed Automatic
Power: 184 hp
Torque: 181 lb/ft
Weight: 3300 lbs.