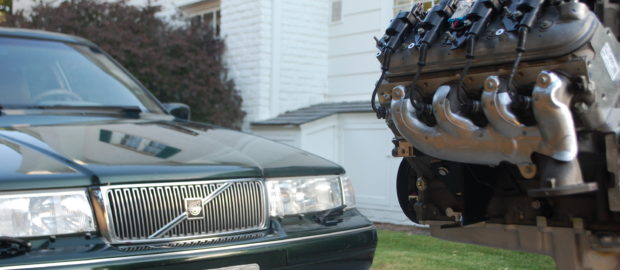 There comes a time in most young people's lives where they start making some headway with their careers. This usually equates to a bump in pay and a little extra spending money. Most people would probably go out and buy the latest and greatest turbo hot hatch and call it a day. Then there's the people who think Grandpa's hand-me-down 1995 Volvo is a better way to go fast.
For the last few years, Willum has been daily driving his grandfather's 1995 Volvo 960 wagon. It's green, it has blown shocks, and the interior finally received a cleaning when the sunroof was accidentally left open at the automatic car wash. By now you're likely to assume it's a clapped out beater that would best be given to someone's 16 year old daughter, and you'd be correct. Look between the lines though and you'll learn this Volvo has a transverse leaf spring IRS and rear wheel drive. Since it's a 1995 model, it's also the last eligible year for GM's E-Rod crate motor program. Cutting to the chase, this Volvo is going to be a 430 horsepower air-conditioned burnout machine.
Just Like the Actor
The idea for this latest round of blasphemy stems from two things. The first being that we have a difficult time selling anything. The other being the late, great Paul Newman had a similarly styled Volvo wagon back in the 1990s which utilized a Ford 5.0 V8 paired with a supercharger. At that time, it was good for 400 horsepower or so, but old photos will tell you it was a shoehorn job. Now that 20+ years have gone by, the Chevy LS motors have taken the cake as the go-to v8 swap. Being that it's lighter (aluminum block), more compact, and produces more power naturally aspirated, the LS is miles ahead of Vanilla Ice's Five-Oh in just about every aspect.
Since this is the great state of California, we still have to deal with smog. Thankfully the E-Rod crate engine is CARB compliant right out of the box. It's the 6.2 liter LS3 V8 as found in the previous generation Camaros and Corvettes, but the kit comes with all the necessary emissions equipment and self-contained wiring harness. The idea behind the E-Rod is that it can go into nearly any vehicle up to 1995, all while being smog legal. By technicality, the CARB sticker supplied with the engine exempts the vehicle from having to go to the state referee, but I'd be very surprised if a regular smog tech would even touch this thing.
Accessories Sold Separately
Like any swap, there will be various odds and ends needed to get the LS3 properly working in the Volvo chassis. The E-Rod kit is fairly comprehensive, but it still requires the buyer to source the accessories and transmission/clutch combo. The motor arms are custom fabricated for this specific swap, and the driveshaft will be a Frankenstein'd piece to mate the GM transmission to the 960's differential. Since "Gramps Wagon" is currently an automatic, we also sourced a manual transmission pedal assembly to make the already potent LS3 a little more engaging to drive.
So what's the plan of attack? Well the engine has been shipped, as well as the Tremec T56 Magnum trans with the option for a .63 6th gear. The motor mounts have been tested to fit, but we still need to decide on an accessory package (GM has a few to choose from which dictates spacing arrangements). The clutch/flywheel setup is most likely going to be from an LS7 because it's made for the C6 Z06 with 505 horsepower stock (75 more than we're working with).
Parts Unknown, and no Chef in Sight
Hiccups are guaranteed to happen along the way. Thanks to the helpful folks on the TurboBricks forum, we've been able to answer most of our questions, but there's still a few items that we'll be performing the R+D. For example, we currently don't know if the Holley 302-1 pan we ordered will clear the front subframe, so there will be a few test fits before anything is finally bolted into position. Another item in question is the rear differential. The 3.73 unit is said to electronically lock up to 25 mph, but we're more concerned whether it can take the torque that the LS is going to be barreling through the drivetrain. This is where the earlier solid axle cars would have made things easier, but only a minor hurdle in the scheme of things.
A brand new GM crate engine is fine and dandy, but it's not going to do anyone any good if the Swede Machine is sloppy to drive. The wagon doesn't need to enter any time attacks, but it'd be nice if it didn't bottom out over the slightest dip in the road. Concocting a suitable suspension and braking package will be an interesting endeavor. The 700/900 series Volvo's have plenty of suspension options, but of course 1995 marks the year when Volvo was phasing out the rear wheel drive platforms in favor of the front wheel drive 850 and S70 cars. The result is that our 960 Wagon has underpinnings closely related to the FWD cars, so suspension and wheel options don't work like they do on the older cars. The brakes should be fairly simple as we can go junkyard diving for an upgrade off an 850. The suspension on the other hand may as well be trying to find a Middle English translator. The company Kaplhenke makes the only aftermarket suspension for the IRS 960 we could find, and it's kinda pricey. Go figure.
I Promise We're Not Crazy
As you can see, the parts pile is growing quickly, as are the receipts that come with them. There's also been more than a few raised eyebrows as to the logic behind this project. If we weren't in California, then we could have sourced a used LS engine for much less. To be fair though, by the time you refresh a used engine, you'll be in the same ballpark as the brand new crate engine. It's honestly a case of paying now or later.
On to the bigger point justifying this swap: What car could you reasonably purchase for $20,000 that will comfortably seat 4 people for long distance trips, be able to haul a bunch of cargo, and have insurmountable reliability? Oh, and be able to surprise many of today's high output machines? Trust me when I say we thought long and hard about this. The only vehicles that came close were the e39 M5 and Cadillac CTS-V wagon, but they were too expensive to maintain and too expensive to find one used, respectively. So here we are back to square one, or better yet, brick one.
Any way you slice it, there's a long road ahead. This is the first American V8 we've gotten the chance to really get our hands on, but ironically we can still use all of our metric sockets and wrenches. With 430 horsepower on the horizon, it's hard not to get excited. Most of all, we can't wait to see people's faces as Grandpa's old Volvo wagon blows their doors off. I like to think Paul would approve.
-JC
See an initial breakdown of what we have planned for the Volvo: