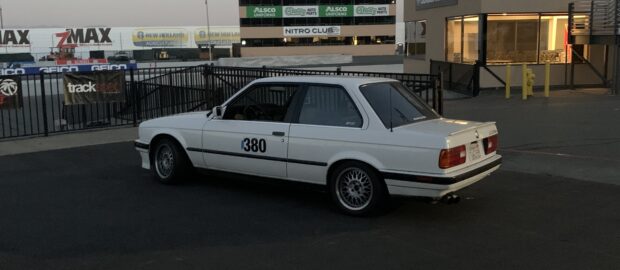 Finally getting an e30 325 on the track
For as much as I claim to like cars, for the longest time I was very hesitant to take any of my own vehicles to a track day. Just a hypochondriac, there was always something that needed to be done before it could go on track. Over the last few years though, I started to dip my toes in driving events by participating in local autocrosses thanks to my friend AJ. As I spent more weekends getting sunburnt in parking lots dodging cones, the allure of trying an actual road course started to become very tempting.
To be fair, autocross is a lot of fun in its own right, and very accessible for drivers of all skill levels. The downside however is that the seat time is low compared to a track day. Most autocross events total up to around 15 minutes of driving, albeit at a lower cost of entry and arguably a safer environment. Wanting more seat time though, I decided it was time to give the racetrack a try by signing up for an HPDE at Sonoma Raceway–or Sears Point if you're an old fart like me as I was informed by the hip Gen Z crowd. No cap.
Bare Essentials of Driving an e30 in Circles
In years past I would have thrown the kitchen sink at a car to get it into "track ready" shape, but thankfully I have made friends with Lemons racers who have done this sort of thing for many years, so they helped me boil it down to a few must-have items for my meager e30 325i to have fun on a racetrack. Provided your e30 is in good running order (check those timing belts!), here are the things that will get you and your e30 through a day of track driving.
E30 TRACK DAY PREP CHECKLIST:
200TW Tires
Racing Brake Pads
High Temperature Brake Fluid
Oil Pan Baffle
Camber Plates
Snell Certified Helmet
Tires: This is a no-brainer when it comes to performance driving. Sticky tires means a good contact patch with the pavement. Since my goal is to have fun and learn, I ran my old Hankook RS4 tires that were on my car as they still had some life, but most 200tw tires these days should be more than capable for amateur hour. If you're just getting started, get a tire that fits your budget and will last a while. The Falken Azenis 615k+ is another longer lasting, budget friendly choice.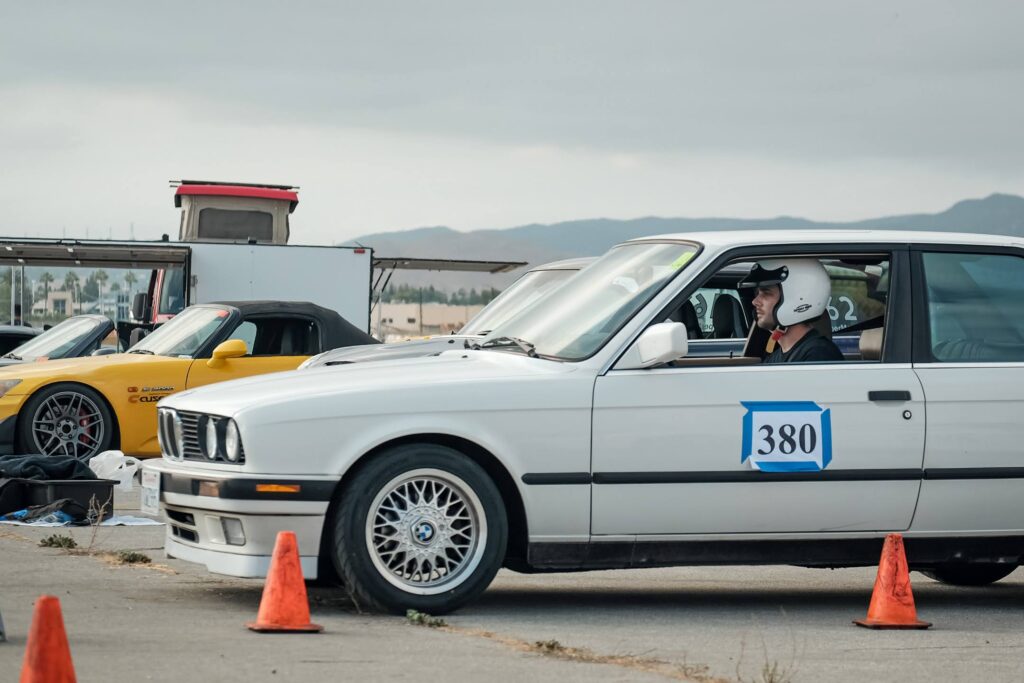 Brake Pads: To manage the heat of braking from high speeds, the street pads were given the boot in exchange for race pads. Poking around the Spec E30 forums and talking to the Lemons crowd, PFC 08 pads were the go-to for reliable performance and durability. They'll make your car sound like a freight train coming to a stop and really dust up the wheels, but that's the trade-off for consistent track braking performance. Surprisingly cold performance of the PFC isn't completely trash either when driving on the highway to events.
Brake Fluid: A fancy set of brake pads isn't going to do too much without the help of fluid that won't throw in the towel under pressure (pun intended?). A quality brake fluid will resist brake fade and help ensure consistent pedal feel.
Bang for buck, it's hard to argue with the price and performance of ATE Typ 200, but there are fancier fluids like Motul with higher boiling points if you're so inclined. My brake fluid was about a year old and I didn't run into any brake issues during my first outing at Sonoma, but a fluid flush is never a bad idea, especially if you're unsure of the last time it was changed.
Related to brake fluid, be sure to inspect your brake lines should they are worse for wear on an old car. In the case of my car, I replaced them with a new set of stainless braided lines from Bimmerworld during a previous suspension overhaul.
Oil Pan Baffle: Here is the actual upgrade part that I think is worth installing on a lot of vehicles (if not already equipped from the factory), especially on a BMW with a slant 6 engine. Since oil pressure is the lifeline of your engine, the last thing you want to do is starve the oil pickup. The BMW 6 cylinders sit at an angle, so oil can creep up the block away from the pickup during certain left hand corners. This is where an oil pan baffle becomes a cheap insurance policy to help keep your engine alive by forcing the oil to stay near the pickup.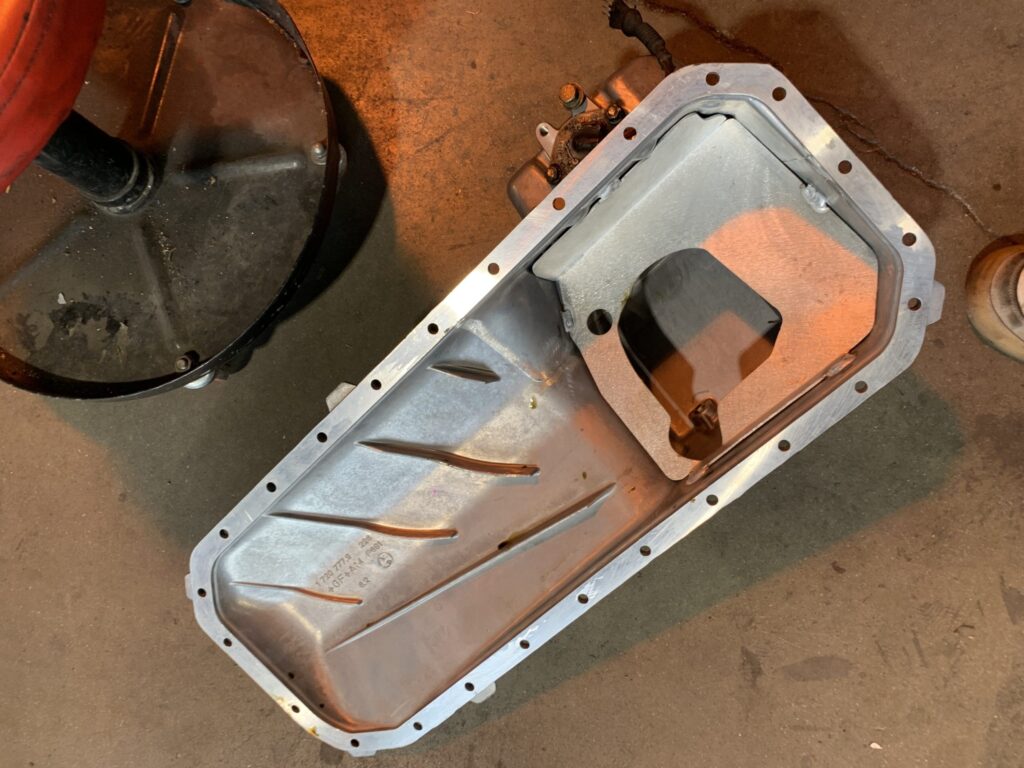 For the e30, there are a few oil pan baffle options available. Since I had a spare oil pan on hand, I went with the AAF trap door style baffle which requires weld-in installation. However, if you're in a jam and want a bolt-in solution, Ireland Engineering sells a baffle plate that fits into an unmodified factory e30 oil pan.
Installation is a bit of a pain, but it should be noted that the oil pan (even with the baffle fitted) on a standard M20 e30 can be installed by simply undoing the motor mounts and lifting the engine by the a/c compressor (or using a engine support brace) without having to drop the subframe assembly or removing the oil pump assembly.
Camber Plates: While not entirely required for your first go at a track day, camber plates are another item that will pay for themselves in short order. With McStrut suspensions (sorry, not currently offered on the dollar menu), camber is your friend to get the most out of your tires, especially on BMWs like the e30. From the factory BMWs tend to have relatively little front camber, which causes the car to understeer as a safety precaution for the average driver.
In performance driving situations, more static negative camber is needed to retain a good contact patch as the car rolls during cornering. Additionally, the increased camber will help prolong the life of the tire during cornering unlike the factory setup which puts a lot of stress on the outside shoulder. More tire life equals more hot laps!
So how do you gain camber on your e30 without going IG StanceBoi overboard? There's the cheap and cheery way, and then there's the more expensive method. If you're just trying to gain a bit of camber without using too much brain power and easy on the wallet, go with a fixed camber plate that bolts to the factory strut mount. Turner Motorsport and Ireland Engineering offer fixed plates, which add between .75 and 1.25 degrees of camber, respectively. The tradeoff with these is they're not adjustable and add around ⅜ inch of stack height to your suspension.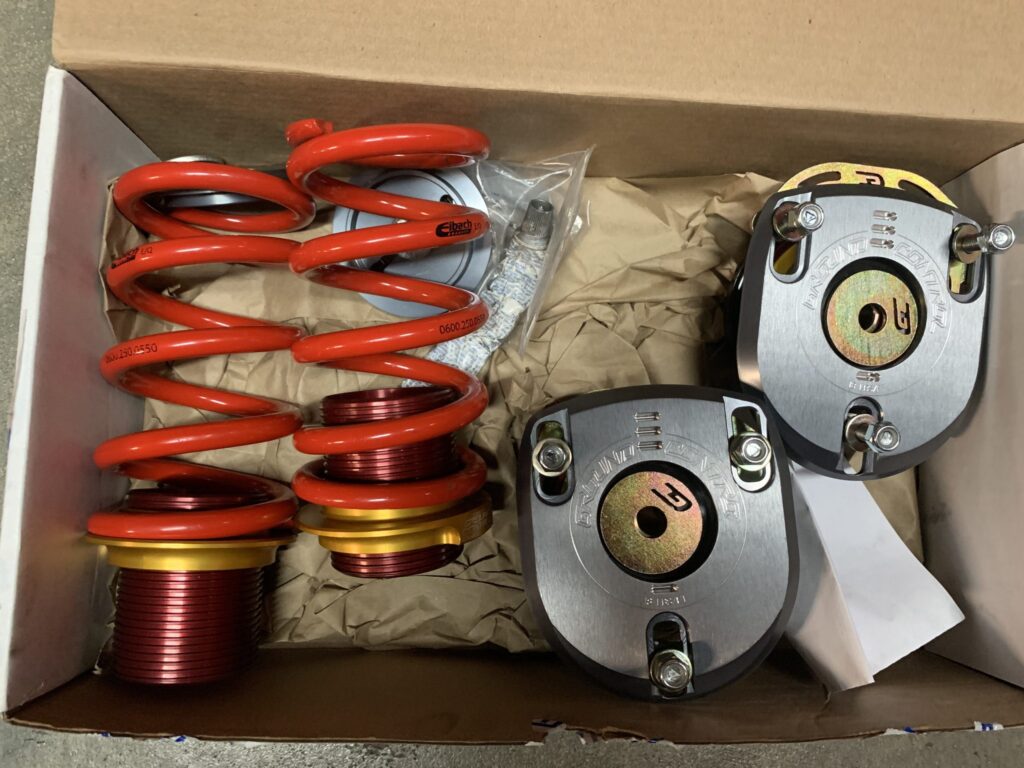 The fancier, but more expensive solution is to get a dedicated camber plate which allows you to adjust your camber to your desired setting. In e30 land, Ground Control is a popular choice for dual purpose street cars, but there are also racier options such as Vorshlag. On my cars I use the Ground Control Touring plates since they're quiet with minimal NVH like a stock mount and I don't have a need to go beyond the max setting of around negative 2.5 degrees (which is plenty for casual autocross and an HPDE). Depending on the camber plate, you may even (re)gain front strut travel when paired with adjustable coilovers.
Helmet: Not so much a car part, but arguably the most important item that will protect your noggin is a helmet. Whether it's autocross or a track day, virtually all organizations require a Snell certified helmet to participate in their driving events. Helmets come in a variety of sizes, styles, and price points, so it helps if you can find a local vendor to try one on before purchasing. I currently have an open face Bell helmet from autocrossing, but a closed face helmet is a better choice moving forward.
Honest Fun
Once I had the e30 prepped and ready, I was off to the track. No matter what I thought I knew about driving, I accepted the fact that there were going to be faster and more experienced drivers and left my ego at home. At the end of the day, this is all for fun, so there was no point getting too wound up about any of this.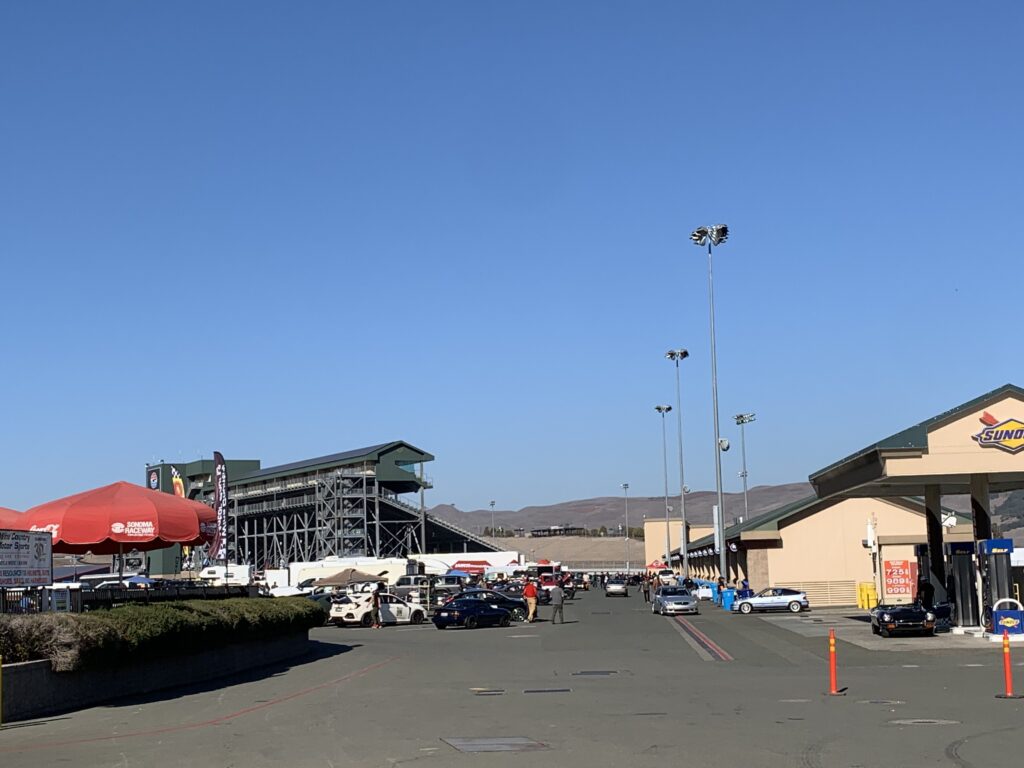 I signed up for the novice group which required point-by-passing on the straightaways. This way I could work on my line and general car control without having to worry about mid corner dive bombs from other drivers. Aside from a few Miatas, my e30 was by far one of the oldest (and slowest) cars in the pack. Most of the drivers seemed to have newer turbocharged cars like the Subaru WRX, BMW M2, VW Golf GTI, and even a few Porsches. Naturally these cars are rockets on the road, so there were plenty of instances where I had to let the drivers pass me since a 200k mile e30 325 isn't exactly a powerhouse in the straights. My friend Milton called my car a moving chicane. I guess he's not wrong.
OK Class, What Did We Learn Today?
Practice makes perfect though, and by the end of the day, I was feeling a lot more confident in the limits of the car and my general driving ability. Sonoma has a lot of elevation changes, so there were certain portions of the track where it was critical to keep the momentum going in a slower car like the e30. I won't lie—I wish I had a more powerful car to drive on track, but for now this car works perfectly fine for my needs. And most importantly, I drove home in one piece.
If you're on the fence about track days, go for it and give it a try. I genuinely wish I had done so sooner as I had missed out on a lot of driving fun over the years. Prepping a car doesn't have to be overwhelming if you're not trying to come home with a trophy. So skip cars and coffee one weekend and see what your ride can really do when given a chance to run through the gears. Best of all, you don't have to worry about blue and red lights in the rear view mirror for speeding.
-JC