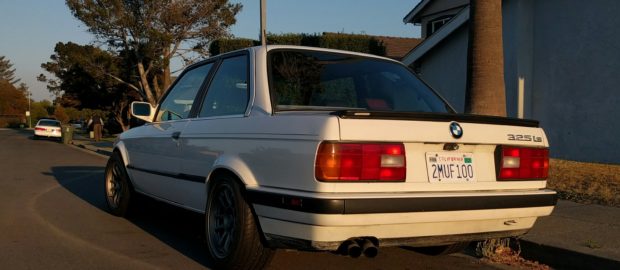 My friends and I have surrounded ourselves with the e30 BMW since we first got our drivers licenses nearly ten years ago. At that time they were merely a 20 year old car we could afford, yet still checked all the right boxes for our needs (incredibly square and rear wheel drive). These were the cars we had cut our teeth on in terms of mechanical know-how. Everything from routine maintenance to engine swaps was learned through an e30.
As the years have gone by, finding a clean example becomes tougher and tougher. The days of a $3,000 5-speed car with plastic bumpers aren't extinct, but about as common as a reasonably priced rental in San Francisco. Part of the price hike is due to age and young kids trashing the cars (I was no exception), but the skyrocketing prices of the first generation M3 have naturally dragged the rest of the e30 family up a ways from being an affordable fun-machine.
Recently it was decided that the Milty Man wanted a more modern car that made noticeably more power, so it was time to put his e30 up for sale. This was not his first e30…or his second, but it was by far the most enjoyable to work on because it was the most cooperative of the bunch. A detail session and a surprisingly trouble free smog test meant the white car was eligible to be put up for sale. We took a handful of nice photos and wrote up an informative ad, then it was off to the races. The car generated plenty of interest, but Craigslist is a surefire way to get lowball offers, flakes, and tire kickers.
On the third attempt, a young kid and his father came to look at the car. It seemed as though he specifically wanted a late model e30 and knew all the "trick" parts we had installed. They took the car for a test drive and decided they liked the car, so they wanted to buy it. Apparently this was going to be his first car. When the kid said, "my friends drive e30's as well," it was like looking in a mirror 10 years ago. To be fair, not much has changed, as many of them still have an e30 in one form or another, but by now we're closer to becoming old timers in the hobby. I suppose it's time for the next round of young enthusiasts to get a stab at the old car lifestyle.
On to the Next Chapter
While it's sad to see a car move on that you've worked so hard on to give a new lease on life, it's also a nice feeling to see someone else can receive so much joy from a car most people would think of as being too old. I hope the new owner takes care of the car and enjoys learning basic mechanical skills. Despite this e30 moving on, there's still another e30 project car in the works. If there's one thing I've learned about these cars in my time driving them, it's this: Where there is one e30, there are bound to be even more nearby.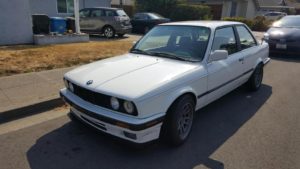 –JC