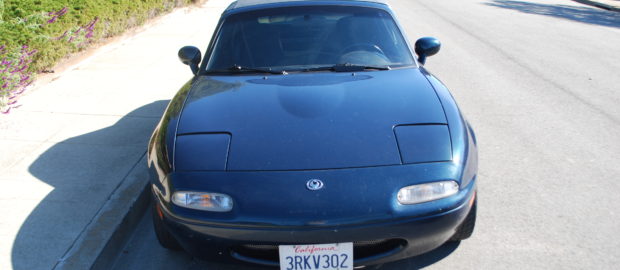 You'd think that after driving a variety of cars over the years that I would have driven the quintessential textbook classic for affordable fun. Yet in all this time, I had never driven a Mazda Miata…not even once. Eventually I was bound to learn what all the hype was about.
Cars + Trucks & Missed Connections
The original plan for Mr. Milton was to get an S2000 or a C5 Z06 Corvette. I thought he was sold on the Corvette after test driving one, but for once I kept my nose out of his car purchasing decisions and let him do his own thing. Another week goes by and he says, "Joe, you won't believe what car I found on Craigslist!" Comments like that are typically the start to the majority of our poor decision making. This week's bad idea came to the tune of a 1996 Mazda Miata. Time to call the salon and and see if anyone still does frosted tips.
I already knew Milton was going to go look at this car, and a healthy amount of cash he had won in Las Vegas a few weeks prior was only burning a hole in his pocket. Since I had a prior engagement, I couldn't accompany him to check out the car, so along went Willum. I later received a text message stating Milton was doing the paperwork with a guy who may very well have been "The Dude."
Pocket Rocket
At 10 PM, a noisy little car pulls up in front of my house and I hop in. We cruise around the neighborhood for a bit and then perform a Chinese fire drill driver swap. At 6-foot and change, I fit surprisingly well into this dinky little car, but holy moly were those pop-up headlights HUGE! For their size you'd think they'd be brighter. However, I got over that novelty quickly and moved on to the main attraction. Bolted to the top of the motor was a Jackson Racing supercharger.
I found a freeway onramp to let it loose, and acceleration was very brisk to say the least. It wasn't Earth shattering fast, but the speedometer definitely kept climbing and didn't show signs of stopping. I don't know how fast (or slow) a stock Miata is, but this car seemed to be much faster than my e36 because of the torque on tap. My butt dyno thinks it's in the 165 WHP range, which may seem low, but hauling around sub 2400 pounds means that it'll get up to speed just fine. Regardless of power, this thing is extremely loud. Let's just say this isn't the car to sneak your girlfriend out of the house after hours. On the other hand, at least you'll be able to outrun her angry father.
There's a brand new soft top hiding so one less thing to worry about, but the roll bar will have to swapped out for an SCCA legal variant.
Now everyone and their mom will tell you how great the Miata handles. As a connoisseur of nimble cars, I'm impressed with the steering response of the MX-5. It's nicely weighted for long sweepers as well as tight technical corners. One thing I didn't care for though was the large amount of front cowl shake. For those not accustomed to the topless lifestyle, this is the flexing sensation of the chassis caused by the lack of a roof. Despite being conceived as a convertible from the start, 20 years on the road has probably made the chassis more floppy. Thankfully the aftermarket is chock full of parts to remedy this issue.
Revenge of the British Roadster
Even though the car has it's quirks, it's still a nice blend of what both Dan and I wanted in a car. He wanted a quick open top car with modern reliability, and I wanted him to get something that could be made into a fun little screamer, but wouldn't be able to break. With that in mind, there's still a laundry list of things to do to the car immediately, namely the wheels and suspension. A proper tune is on the list too since neither of us know if the supercharger is working properly. Otherwise we just need to spruce up the car cosmetically, which should be a fun project in itself. For once we may not blow the budget!
Once all the work is done, perhaps Milty Man may even sign up for an HPDE type event to test his skills with the new car. This marks a new chapter in the books, as neither of us have really owned anything other than German cars, so there's a part of me that's excited to see what one of Japan's most iconic cars has to offer. This is also the first forced induction car to be added to the stable. The bar has been set, I just hope I remember how to Limbo.
-JC