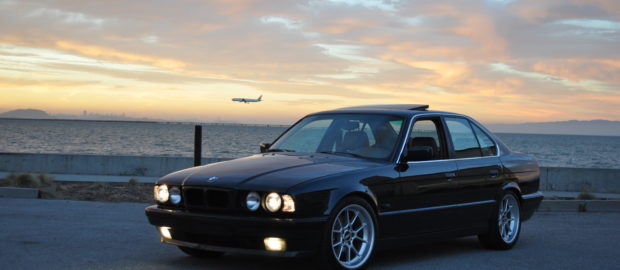 Life can throw many curveballs. Regardless of how you plan, some things are just out of our control. Taylor Griffith had spent a good deal of time restoring a 1988 635csi. When a left turn collision with a pizza delivery car ended the era of his shark-nose 6, Taylor knew it was time for a change.
After a little time went by, Taylor came across a 1995 e34 BMW 540i sport package car. In a sense it was an unusual find, as the car was Oxford Green with a tan leather interior and dark wood trim, yet was a factory 6 speed car. This was definitely a car someone bought new with their dotcom money.
Combined with a longer wheel base, this car feels extremely planted at speed.
When Taylor got the car, it had a handful of light modifications done to it already. It was sitting on H&R/Bilstein Sport suspension, with a set of 18 inch BBS RK's to match. Taylor would later learn that the car had a 3.15 LSD and short shifter installed as well. Despite being a capable platform as is, Taylor embarked upon the task of making the 5 his own.
The car needed some routine maintenance, so Taylor used that opportunity to upgrade the fuel system, with a higher flow pump, rebuilt Mustang injectors, and a 4.0 BAR fuel pressure regulator. Custom software was burned onto an e-prom chip to squeeze a few more ponies out of the 32 valve aluminum eight cylinder. This made 7,000 RPM a frequent destination for the 4.0 liter m60.
While the suspension was fairly sorted when he got the car, Taylor spent a great deal of time to eliminate any and all slop. Nearly every suspension bushing has been replaced with poly urethane. The steering box has been replaced as well to make sure it's in tip-top condition. Where Taylor's car differs from many however is the chassis bracing. Up front is an off the shelf Racing Dynamics strut tower brace, but in the trunk lies a custom fabricated brace that is welded to both the rear shock towers and trunk floor. On these bigger bodied cars, it makes a noticeable difference in chassis stiffness. The custom brace also makes sure the differential stays bolted right where it's supposed to be upon hard launches.
Just when you thought the upgrades were done for this car, try again! The stock clutch was on its way out, so a UUC lightweight flywheel and sport clutch kit was installed. The engine revs more freely thanks to a weight of only 13.5 lbs, versus the stock dual mass flywheel that's pushing nearly 30 lbs. To really make sure the 3700 pound sedan could scoot off the line, Taylor sourced a 3.64 LSD. With these gears, the car pulls through the gears ferociously. Normally this would be an extra aggressive set of gears that would make daily driving miserable, but 6th gear keeps things fairly tame under 3400 rpm, even at 80 mph on the freeways.
Taylor has owned this car for about four years now, and it has become the best of both worlds. While he had wanted a Mustang for quite some time, it was hard to leave behind the Bavarian fit and finish of his old 635csi. This car fills that niche quite well with all its amenities, yet has plenty of low end grunt to muscle its way through traffic. Unlike the 635's poor excuse for a back seat, the 4-door 540 lets your friends tag along for the fun with room to spare.
The more you drive this car, the more you'll notice how the inputs were designed. Coming from the world of 3-series cars, those cars are most comfortable up to 80 mph or so, then the short wheel base gets a little twitchy. In the case of the 540, everything is set up for munching miles at a time. The steering that would normally feel a bit sloppy around town is perfectly weighted for freeway speeds…both legal and not. Combined with a longer wheel base, this car feels extremely planted at speed. In case you plan to exit hyper drive speeds, a set of 840 Brembos bring the e34 to a halt very quickly.
IN IT FOR THE LONG HAUL
With over two decades since the introduction of the e34 platform, the styling has held up exceptionally well. There's no doubt as to the popularity of these old 5-series cars, as they can still be seen roaming the streets after all these years. The e34 also saw a large variety of motors such as the m20, m30, m50, m60, and not to forget the famed s38. It's also not uncommon to see well over 200,000 miles on any one of these engines. Some aspects of the interior may be a bit dated, but the rest of the car has stood the test of time, and rightfully so. I may go as far to say this is the chassis that marked BMW's move into the modern age.
Taylor's journey with the 540 is far from over. The car has been very reliable for Taylor, but it's not stopping him from building a new motor with a rather trick Dinan supercharger added to the mix. Power output is expected to be north of the 400 horse range. By the time the new motor is installed into the green machine, the car will have added new meaning to the term Executive Express.
-JC
1995 BMW e34 540i/6 SPECS
M60B40 32v V8 w/Getrag 420 6-speed transmission
DUDMD Tune
Walbro 255 Fuel Pump with 4.0 Bar fuel pressure regulator & 22lb Bosch Mustang Injectors
VAC Motorsport pulley kit
Muffler Delete
3.64 Large Case LSD
UUC 13.5 lb Flywheel w/Sport Clutch
Z3 Short Shifter
Revalved Bilstein Sport Shocks
H&R Sport Springs
Racing Dynamics Front Strut Tower Brace
Custom Welded Rear Shock Tower Triangulated Brace
BBS RK002 Wheels, 18×8.5 et18 with 245/40/18 Continental Extreme Contact DW Tires
Aluminum lower control arms with Powerflex bushings
HD upper control arms with Powerflex bushings
 Racing Dynamics Front Sway Bar 27mm, Euro m5 20mm Rear Sway Bar
AKG Trailing Arm Bushings
Powerflex Subframe Bushings
 840ci Front Brembo calipers
Euro Glove Box
M5 Shifter Surround
Euro Cassette Holder
Euro Rear Head Rests
e34 M5 Steering Wheel
e34 M5 Filler Plate
Euro Smiley Headlights
Hella Smoked Tail Lights