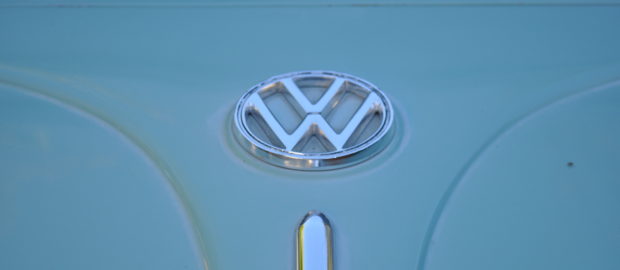 There are a lot of iconic cars throughout the pages of history. Whether it's the Ferrari 250 GTO, or the Mercedes Benz 300 SL Gullwing, many of these cult classic automobiles are so prized that they cost an arm, a leg, and your first born child. Typically cars like those spend their days waiting in private collections to be rubbed with a diaper until Pebble Beach every August. However, one car has the most recognized shape of any automobile produced, yet you can still see them driving on the roads today: The Volkswagen Beetle.
Add all these attributes together and you have a rather hot ticket in the world of vintage Volkswagens.
Most of Bugs you'll see driving around these days fall into one of two categories. They're either a half inch off the ground with a loud exhaust, or it's a clapped out Super Beetle collecting dents while parked in front of Amoeba Music in the Haight. My friend Dave was kind enough to offer something a little different for this article. His car isn't something you're going to see on your standard morning commute.
Dave's Beetle is a nicely preserved 63' model dressed in Bahama Blau. Around ten years ago, Dave purchased the car off the original owner. Fittingly, the man was an elderly German fellow. While not as rare as the split window variants, Dave's car is still an earlier example with the right amount of exterior brightwork and the classic style dash. The Bug has also lived its entire life in California, so rust has never been issue. Add all these attributes together and you have a rather hot ticket in the world of vintage Volkswagens.
Once Dave got a hold of the car, he decided this Bug needed a different approach. He had once owned another Beetle that was turned into a hot rod with a built motor, but this Bug was going to remain clean and original.
Under the rear deck lid lies the heart of the VW. The 1200cc flat 4 cylinder pumps out an eager 40 horsepower, with an exhaust note distinctly native to Wolfsburg. Mated to a 4 speed synchromesh transaxle, the Bug only needs to haul a little over 1600 lbs. to keep up with the hustle and bustle of modern traffic.
The interior vinyl is very tidy. The front seats, rear bench, and door cards have been reupholstered to give a fresh look and feel to anyone going for a ride. Dave's car does retain the original headliner, which is a dotted pattern that was painted on when new. This is a nice touch as there's currently no readily available replacement. To complete the look, a set of rear pop-out windows has been retrofitted to add a little bit of OEM flair when parked or cruising down the street.
Despite how small and simple an original Volkswagen Beetle might appear, it's the details that make seeing an original example such a treat. If you're a fan of German cars, you'll see some familiar names scattered throughout the interior. The original gauges show the earlier days of the VDO logo. Careful inspection of the window glass will reveal the SEKURIT script. However one of the more famous names sits right front and center on the original radio…Blaupunkt.
To add to the charm of the originality, Dave keeps some memorabilia in the trunk of the car. On top of the cardboard fuel tank cover sits an original tool kit accompanied by a few pieces of literature. Dave has managed to source a Chilton's repair manual and the VW dealer cartoon book. To top it off, there's the obligatory copy of John Muir's How to Keep Your Volkswagen Alive.
Originality is often prized in the classic car world, but technology has made a few advancements since 1963. In certain cases, modern updates lead to better drivability without detracting from the character of the car. For Dave's car, he's opted for a front disc conversion using VW Scirocco parts for improved stopping power over stock. The electrical system has been upgraded as well, changing from a 6 volt generator to a 12v alternator. Purists will argue that these changes taint the unmodified nature of the car, but these changes also separate the car that gets driven on a regular basis from the car that sits in the garage because it won't start.
KEEPING THE WOLFSBURG SPIRIT ALIVE
So what else does it take to keep a car going as old as 'I Want to Hold Your Hand'? A couple bucks here and there certainly doesn't hurt, but routine maintenance and patience goes a long way. Dave's car has been very reliable during the course of his ownership which is a testament to the engineering that went into making the People's Car. Down the line he might give the car a new paint job or an engine rebuild, but for now he's just as happy driving the Bug as is. In fact, he likes it so much that he even threw the car a 50th birthday bash with plenty of guests in attendance.
With over 21 million Beetles sold throughout the car's production span, the enthusiasm and parts supply remain very strong to this day. What's more impressive is how the Beetle had remained essentially the same car for the thirty years it was sold in the United States, let alone when worldwide production ceased in 2003. Regardless of how many were produced, every Volkswagen Beetle has its own unique story to tell. It just goes to show that you don't need something outrageously rare to have something very special.
-JC
SPECS
Year: 1963
Color: Bahama Blue
Drivetrain: Rear Engine, RWD
Engine: 1200cc Flat 4 Cylinder
Power: 40 hp
Torque: 65 lb/ft
Weight: 1600 lbs.