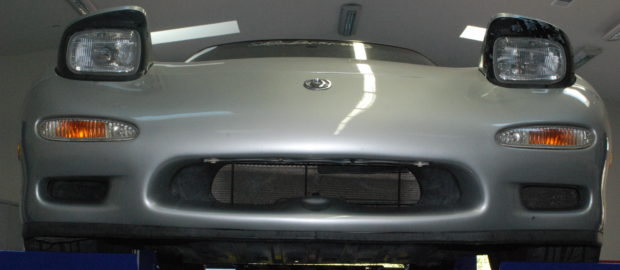 The sports car market of the 1990s was in for an ambush once Japan decided to unleash a wave of potent machines. Whether it was the Acura NSX, Mitsubishi 3000GT, Nissan 300ZX, or the almighty Toyota Supra Twin Turbo, each of these cars came equipped with the latest technologies available, which made for some serious power figures in the day. Despite the new muscle, many of Japan's finest had gained a fair amount of weight in the process. One car stood out from the crowd though due to its back to basics approach. It also had a very unique engine, along with styling that is revered to this day. That car was none other than Mazda's RX-7.
Pair the 5 speed manual to a 4.10 Torsen LSD out back, and the FD RX-7 will certainly go Zoom-Zoom.
Unlike traditional combustion engines, the RX-7 's motor doesn't use cylindrical pistons, but rather triangular rotors that operate off an eccentric shaft (similar to a crankshaft). The Wankel engine has a lot of mystery and black magic surrounding it, but it's a fascinating design that's relatively compact and utilizes fewer moving parts. This culminates in an engine displacing a minuscule 1.3 liters.  The trade-off is inherently higher fuel and oil consumption, but no other engine delivers the seamless power and exhaust note like Mazda's rotary.
Sporting Credentials
When it came time to shop for a fun car, Craig Bianchi was originally looking to buy a Mazda Miata, but the decision was made to get something with a bit more potential. Moving up the Mazda ladder, Craig became the owner of a 1993 RX-7 in Silver Stone Metallic.
Craig's RX-7 is extra special because it's unequivocally the most desirable of the RX-7's three generation production span. It's the 3rd gen FD, which has the best body style to date, along with twin turbos to make the 13B-REW a serious contender in the power department at 255 HP and 217 lb-ft. of torque in stock form. The RX-7 also kept its weight under 2800 lbs, making it an anomaly compared to its competition. Pair the 5 speed manual to a 4.10 Torsen LSD out back, and the FD RX-7 will certainly go Zoom-Zoom.
The interior of the RX-7 is just as serious. Much like a fighter jet, all instrumentation and switchgear are angled towards the driver and within easy reach. As an ode to classic sports cars, the cluster has chrome trim rings around each of the gauges to provide a nice contrast against the black leather interior. For a dedicated two seater, the RX-7 has a surprising amount of trunk storage, but don't worry, this car won't be moonlighting as an airport taxi any time soon.
Reviving the Revs
The FD RX-7 was produced for over a decade until production ceased in 2002, but only made a three year cameo appearance in the United States (1993-1995). That means finding a US spec car can be a tall order considering the last cars left the lots over twenty years ago. In the case of Craig's example, the engine needed a clean bill of health before being put into daily duty. The motor was rebuilt by a specialist back to stock specification, and the large array of vacuum lines were sorted to make sure everything operates as intended, particularly the sequential twin turbo system.
Where's the fun in a car if you don't make it your own? A stock RX-7 is plenty capable, but a serious enthusiast is always going to add their touches to fine tune it to their needs. Craig was no different when he decided to lower the car on a set of TEIN coilovers, making the RX-7 handle even better with its near perfect weight distribution.
With the suspension and motor checked off the list, it was time to put some meat under the FD's fenders. The stock 16 inch wheels were swapped out in favor of a staggered set of TR Motorsport FF10 wheels. The fronts are 17×8 with 235 Bridgestone Potenza tires, while the rears take it up a notch with 265mm wide rubber wrapped around a 9 inch wheels. Traction will never be out of stock. But in case you don't see the sleek Mazda on the local twisty roads, a 3 inch sport exhaust will send a friendly reminder.
Beyond 8,000
The RX-7 isn't a car everyone fully understands. Craig will be the first to tell you that ownership requires a different approach over your standard sporty car. The oil level has to be topped off more frequently, and the motor should always be given the chance to get up to temperature (that's every time it's started). However, the joy of driving the RX-7 outweighs any idiosyncrasies of the rotary engine.
Craig's car has come a long way in a short time, but that doesn't mean the tinkering will stop any time soon. Next on the agenda is a custom tune that will raise the car's redline up to a wailing 9,000 RPM, so watch out Honda S2000. Then he and his dad plan to hit the track where the RX-7 can be put through its paces. Sounds like a weekend well spent in my book.
-JC
SPECS