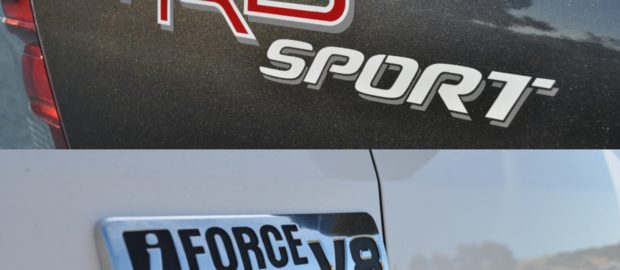 Picking a truck may as well be picking sides in war. People are very particular and will want to explain why their truck is the one to go with. Usually the Big Three are the textbook go-to brands for a truck, but there's no denying that Toyota has planted the Land of the Rising Sun's flag in the market segment and it's here to stay. Even among the Toyota loyalty lies faction though. There's the Tacoma fan base, and then there's the Tundra militia. Either way, Toyota makes two trucks that are very popular in their own regards. In this Head 2 Head, we'll look at the Toyota Tacoma versus its bigger brother, the Toyota Tundra.
Regardless of which truck you take a liking to, the used market for these trucks is so strong that buying used may not even be worth the price and mileage.
Despite having roots in Japan, the Tacoma and Tundra trucks are actually built in the USA, so they're just as domestic as the rest of the American manufacturers (if not more). A quick look at the spec sheets will give you a vague idea of the differences between the pickups.
Specs
Year: 2011
Color: Magnet Gray
Drivetrain: RWD
Engine: 4.0 V6
Power: 237 hp
Torque: 266 lb/ft
Weight: 4000 lbs.
Year: 2012
Color: Super White
Drivetrain: 4WD
Engine: 5.7 V8
Power: 381 hp
Torque: 401 lb/ft
Weight: 5600 lbs.
The test vehicles have been graciously provided by my friends Anthony and Wes. Anthony owns the Magnet Gray 2011 Tacoma TRD PreRunner double cab. Wes on the other hand brought his 2012 Tundra TRD Rock Warrior in Super White, which is a 4WD equipped Crew Max. Ideally we would have liked two 4WD models for direct comparison, but most people who buy these trucks aren't going to be driving in situations to consistently need 4WD. For the driving most of us do, both of these trucks are more than up to the task.
The first difference one can see between the trucks is the bed size. From a profile, the Tacoma has the upper hand with a 6 ft. bed. The Tundra sacrifices bed length with the larger cab size, knocking it down to 5.5 feet. However the Tundra has the wider of the beds, at 66.4" versus 56.7" on the Tacoma. Each truck is available in different length beds, so that leaves plenty of ways to mix and match options.
Hop inside either truck and you know it's a Toyota. The switches, handles, and overall textures have a durable if not Spartan nature to them. Design of the front seats shows different purposes between the trucks. The Tacoma has sportier bucket style seating that's supportive without being intrusive. Move over to the Tundra and you'll notice the seats are much wider not unlike old bench seats. If you're a bigger person though, the Tundra is going to be a more comfortable place to sit. The rear legroom is also noticeably larger in the Tundra thanks to rear seat sliders. Wes's particular Tundra also has a black leather interior, which takes the luxury up a notch. If you're someone who has Rugrats of your own, the cloth-stitch style interior might stand up to better abuse.
Tacoma
Open the door and hopping inside the Tacoma doesn't require any more effort than most cars or light SUVs. All the switch gear is logically placed for easy access. Despite having a full size cab and long bed configuration, the Tacoma is surprisingly easy to navigate around city streets. It feels no different than a full size sedan to place on the road, just a bit higher off the ground. The steering is precise and nicely weighted, making turn-in easy (not something you'd expect from a pickup). As someone who doesn't drive trucks as often, it was a very easy transition. Get out on the highway and you'll notice the 4.0 V6 has to rev a bit higher to make its power, but the engine pulls smooth without a fuss. The brakes are a bit touchy, but they certainly work to bring the truck to a halt, especially with 4 piston calipers up front.
Tundra
Climb into the turret and you're definitely sitting above most traffic, giving excellent visibility. Some of the features of the Tundra are a bit nicer than its smaller sibling. There's the optional center navigation screen in case you need to ask for directions. You can also roll down the rear window glass, a nice touch that aids airflow through the cabin on those warm days. Nothing is over the top flashier, but you know it's a more expensive overall package than a Tacoma. Start up the iForce V8 and it makes its presence known, if not with a subdued engine tone. Once you set Goliath into motion, you notice how much mass you're in charge of handling. The steering feels a bit over boosted than that of the Tacoma, but is probably done so to make maneuvering tight parking spaces less of a feat. Getting up to freeway speeds is done effortlessly in the Tundra, but with nearly 400 horses in the corral, gas mileage suffers. Mixed driving will net you 15 mpg if you're lucky. In contrast, the Tacoma averages closer to 20 mpg between city and freeway driving. Braking with the Tundra's 4 pot front calipers is less sensitive than the Tacoma, but still brings the behemoth to a stop without any issues.
The Verdict
So which is better? It's easier to ask the question than coming to a definitive decision. They both have their merits. The Tacoma packs a lot of truck into a not-so large package and provides for a well-rounded package. The Tundra is a lot more truck that can do much more than a Tacoma, but it also costs that much more. Brand new, the Tacoma PreRunner retailed close to $30k once optioned up. The Tundra Rock Warrior was well north of $40k once all the correct boxes were checked. Despite being a few years old, both pickups have phenomenal resale value. You can thank Toyota's bulletproof reliability for that. It should also be noted that both of these trucks have over 30,000 miles on them, and everything has held up very well. No mechanical failures or interior fit and finish issues to report.
If it were me, I'd take the Tacoma just because it's a little smaller to get around town. I like the way it drives better and I personally don't need the extra power of the Tundra's V8 for my needs. I also don't haul loads larger than the odd piece of furniture every now and again. That doesn't mean the Tundra isn't a solid buy in itself, but it's also made for someone with more cargo needs. The Tundra is also better for long trips because of the larger interior arrangements. Regardless of which truck you take a liking to, the used market for these trucks is so strong that buying used may not even be worth the price and mileage. Unless there's a specific year and model you want, this is a case where brand new is the better buy.
–JC