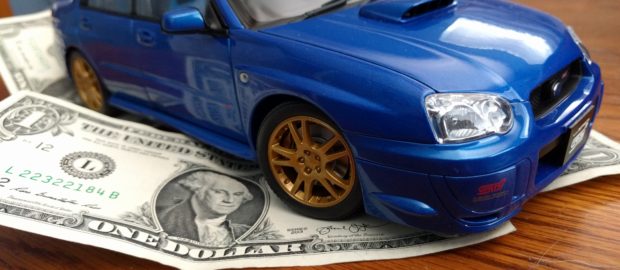 Like frat boys blowing their first paychecks on the stock market, I too like to predict things that will become desirable and more expensive down the line. I hardly keep track of what happens on Wall Street, but I do keep track of the used car market. Here's my pick for cars that will become classics in the years to come:
2002-03 Subaru Impreza WRX
Affectionately known as the "bug-eye" to the fanboys, this generation was the first taste of a quick and sporty car from Subaru to US buyer. For years, the WRX/STI variants were never available in the United States, leaving US buyers in the dark about the rally prowess that Subaru was selling to the rest of the world. Albeit not the fastest WRX, the bug-eye cars started (in my opinion) the wave of Japanese manufacturers to finally ship their home brewed rally specials to the United States. It was also a practical car with four doors, making for speedy trips to the local ski resorts during the winter months.
Nowadays, well under ten grand will get you a fairly nice example. Cheap prices however mean that young kids get a hold of them and use them as a canvas for bolt on horsepower and body kits, so finding an unmolested example will only get harder as time continues.
E46 BMW 330 ZHP
In the BMW world, this car is both loved and scoffed at. The love comes from the sporty M-Tech bumpers and wheels, the alcantara interiors, and the tight suspension geometry. The looks of disdain stem from the lack of M-car powerplant, yet the M-car pricing.
Arguably the 330 ZHP was the closest thing to a 4-door e46 M3 you could get from the factory (albeit 2-door ZHP's were available). Currently the cars are priced in the low teens for a nice example, which is well within spitting distance of its individual throttle bodied brethren pushing almost 100 more ponies over the ZHP's 235. This was a car that was pricey when new, and still remains pricey. In the years to come, however, these will hold if not increase in value because, while they don't have an M-series motor, the ZHP has a whole array of features that are both unique, and coveted by Bimmer-philes. The steering rack, the wheels, the bumpers, and the slick shifting ZF 6 speed are just a few points that make for a well-rounded package. Buying one now may seem like a shot to the kidneys, but I don't think prices are going to dip much lower, especially for 6 speed cars.
C5 Z06 Corvette
This is one that leaves me puzzled. Here is a car that is about as good as can be right out of the box. It has big brakes, tight handling suspension, and gobs of power to propel you well past 150 miles per hour, yet the C5 Z06 doesn't cost much more than $25,000 for a very tidy example.
Weekend track day warriors are big fans of these cars due to their bulletproof reliability. Some may not share the same opinion, but I feel this was the first American car in long while that demonstrated that the USA could built a capable sports car for less than $50,000 when it was still on the showroom floor. Perhaps they are overshadowed by their faster and newer Z06 counterparts, or maybe some people just can't succumb saying they drive a "Vette." However, not too many specialty sports cars can use parts stocked by your local auto parts store.
R53 Mini Cooper S
Not exactly an all-out sports car, but rather a sporty hatchback, the R53 Mini Cooper S packs some serious heat under its hood. When BMW decided to launch a new generation of Mini Cooper for the 21st century, the "S" variant of the Cooper made 160 horses in the form of a supercharged 1.6 liter four cylinder. In this day in age of 500 plus horsepower station wagons, this Mini is by no means a powerhouse, but that's exactly why the first generation "New" Mini will become a cult icon in the years to come. It's a sporty car that still has practicality, all while getting good fuel mileage and being easy to park on tight city streets.
Much like my extra biased opinion of the e30 when new, the Mini is currently the cutesy car that yuppies use to get them around town on a daily basis. As the years go on, people will drive them into the ground, and finding a clean one that retains the more classic proportions (unlike the bigger, later iterations) will not be so easy. Right now the cars are bottoming out in price in the sub $8,000 range. The cars are not fast enough that most teenagers buy them to modify them, nor are they currently trendy enough for people to continue to drive them all the time. Right now they're just an older car, making it a perfect time to put one in your driveway.
–JC