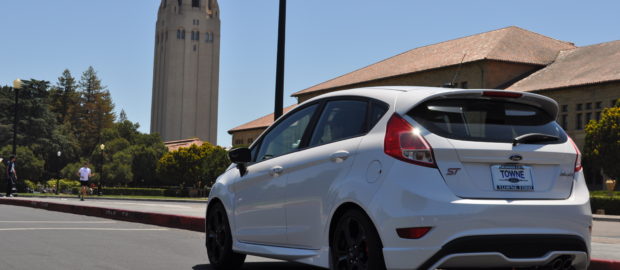 Hot Hatches have been a major market segment ever since the introduction of the original Volkswagen GTI. Most enthusiasts (or car buffs with little kids) will tell you that hot hatchbacks are the most practical form of fun you can buy on wheels. They bring the little ones to school and saxophone practice, they're easy to park in tight spaces, and fit groceries in the rear hatch. Oh yeah, they are also tremendous amounts of fun to drive like a bat out of hell. As the years have passed, many of these hot hatchbacks have grown in size, and they have a sticker price to match. Fear not, as the days of the affordable hot hatch are far from over.
In 2014, Ford finally gave US citizens a taste of the small displacement turbocharged fury that it had been selling to Europeans for three decades. I acknowledge that the Focus ST was the first to hit our shores, but the car I'm talking about is the Fiesta ST, also known as the FiST to those trendy interweb message board types. This little pocket rocket packs 197 hp and 214 lb/ft of torque, all from a tiny 1.6 liter engine with a hairdryer bolted on. With a base price a little over 21k, there's very little in the way of competition at this price point.
What makes the car so much fun to drive though is the Fiesta ST's angry personality. It instigates the driver into aggressive cornering and sudden downshifts. It's as if the Fiesta wants you to think it's a street legal rally car.
Packed Full of Flavor
From the outside, the ST sets itself apart from its bland commuter car Fiesta family with more aggressive bumpers, 17 inch wheels, and "ST" badges on both the grill and trunk. If you're feeling extra bold, you can have colors like Molten Orange or Green Envy, just in case someone still doesn't notice what car you're driving.
Despite being a 5 door hatchback, the Fiesta is a TINY car. Grownups will fit just fine in the front seats, but rear legroom is going to be tight for anyone who's too old for the ball pit at Chuck E. Cheese's. If you check the box for the $1800 optional Recaro package, you'll get a set of very supportive front buckets, but rear legroom is compromised even more over the standard seats. For those who plan to put anything semi-large into the hatch area, folding down the back seats is a must. Tall people can sigh with relief however, because headroom is plentiful even with the optional sunroof.
The Party Hits the Streets
The moment you get into the Fiesta, you feel that the driver's seat is meant for business. Immediately in front of your eyes rests the perforated 3 spoke steering and the instrument cluster. Off to the center sits the navigation screen and the condensed HVAC/Radio controls. Below it stands the shift lever…and that's about all there is to see. There's no ignition for the key fob, so it just stays in your pocket and the push of a button fires up the EcoBoost 1.6 boost bunny. At idle it's fairly quiet, but the moment you stab the fun pedal, torque is instantaneous and you're pegging the redline at 6,300 RPM. Go for a gear change and the 6-speed is a slick unit to shift, albeit throws aren't as short as you'd hope. The journey to redline is a surge of boost and intake noise. While I don't necessarily agree with funneling engine noises into the car's cabin these days (Ford calls it a "sound symposer"), the note does sound angry and adds to the overall experience.
Immediately driving the ST one notices that the suspension is where the R&D went into. The shocks ride very firm, especially for a stock setup. Unlike hatchbacks of yesteryear, the Fiesta ST implements electric power steering. This was an interesting sensation to adjust to, as the steering is extremely light when stopped, but firms up as you drive. That's not to say it lacks precision, but the feedback isn't as satisfying compared to a traditional hydraulic system. Regardless how I feel, electric power steering is the future.
Pick up the pace on a twisty stage of tarmac and the FiST comes into its own. The handling is razor sharp, and it's easy to place the car on the road. For a front wheel drive car, it doesn't exhibit the typical understeer and torque steer traits inherent to this layout. Go too fast into a bend and the brakes react instantly to shave off unwanted speed. What makes the car so much fun to drive though is the Fiesta ST's angry personality. It instigates the driver into aggressive cornering and sudden downshifts. It's as if the Fiesta wants you to think it's a street legal rally car. Sure you can drive this car sedately and get fantastic gas mileage. It's also not going to complain should you want to slide the 205 Bridgestone Potenzas around a hairpin corner either. This is the first new car in a long time that recaptures the raw driving experience which hot hatches stand for.
The Stamp of Approval
I have to hand it to Ford, I think they've managed to knock a few brands off their podium. The most notable being Subaru, because Ford has shown that a hatchback doesn't need 4WD to be fun. Powering only one set of axles also means a nearly 25% drop in price over a comparably equipped WRX. In fairness one could say that a WRX has more power and cargo capacity, but the Subie is still based on an econobox platform too, which is especially tough to ignore at a higher price tag.
If there's one piece of advice I can offer about the Fiesta ST, it's that you should buy one while you can. This is a car that comes around only once in a blue moon. It's a car that delivers the essential ingredients for a fun driving experience, but is still usable for everyday life. Modern manufacturing of automobiles leads to cars laden with options and accessories that are convenient, but not always necessary. At 2720 lbs, it's a featherweight in a world of 4000 lb appliances on wheels. I truly think this is a cult car in the making. For now, we'll just enjoy the Fiesta before somebody cranks up the volume.
-JC
A special thanks goes to the Westermeister for sharing his Fiesta, "Finn," with us for this review.
SPECS