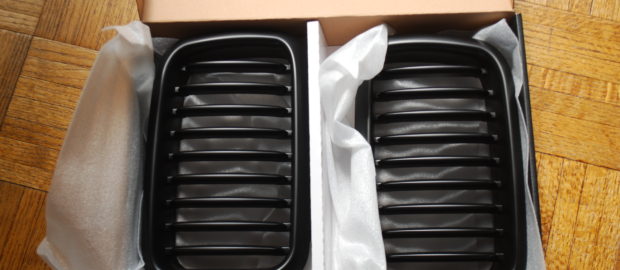 Cosmetic pieces are usually the last additions I make to a car. Namely because their only function is to look pretty. In the case of our e36 318is project car, it would take some seriously skinned knuckles to make any extra power out of the car, and that's not the plan for this car (or so I hope). That being said, what was stylish in 1993 looks about as flavorful as a Tums tablet to combat the aftermath of a risky Taco Tuesday.
The two tone daily 318 needs a bit of a facelift, so an order was placed to ECS Tuning to get a handful of exterior goodies. First on the list was a set of black grilles for the nose of the car. Normally I'm not a fan of blacking out trim pieces, but a white car is probably the color to do it to if you must. The other benefit to the new grille pieces is that they update the kidneys to the e36 facelift style, unlike the earlier, small flush-mounted mounted kidneys that are currently mounted.
The grilles were a straight forward install. Gently pry the old chrome grilles out of the nose panel, and simply pop the new units into place. Voila! The front end of the car is guaranteed to get the approval of teenage boys nationwide.
The new blacked out grilles with questionable motives (note raised profile mounting on the nose panel).
If there's a spot that the M-cars get better visual appeal, it's the door trim. On a non-M e36, there's usually a thin trim piece that spans the profile of the doors. The bumper trim (regardless of the model) is larger and more pronounced. Naturally the door trim doesn't jive and looks out of place. For a little over $150 dollars, BMW will sell you the solution to the problem they created. In our case we ordered the M-door trim for a 2 door (as there are 4-door and 318ti applications).
Removal of the old trim simply requires a good tug, and off it pops. There may be some rubber grommets left over, so be sure to pull those out as well. A wipe down of the surface is not a bad idea, as this area hasn't seen the light of day since Slick Willie rolled into office. The new trim installs by popping each tab into its respective slot. Some areas may need more force than others to seat properly.
New Look in the Mirror
After installing these cosmetic upgrades, the car definitely looks less dated. I'm still on the fence about the black kidneys, but then again my idea of stylish and cool differ quite a bit from Mr. Milton. As the more parts go on, the 4×4 nature of the ride height becomes more apparent. Since this car already has a set Bilstein HD's equipped, H&R OE Sport springs would be the easiest route to lower the car while retaining suspension travel. However if there's something I've learned over the years, it's that nothing is set in stone. Tom Petty was probably right when he said, "Workin' on a mystery, goin' wherever it leads." I have a feeling he's on to something…
-JC