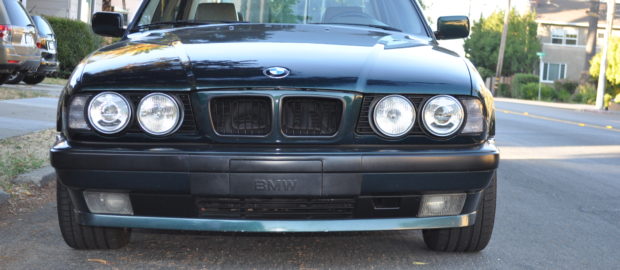 I will be the first to say that rack and pinion steering is my pick over a steering box, any and every day. My experiences with steering boxes have been mundane at best.
They're vague and cause a lot more play in the steering than I'm comfortable with. When my friend Taylor gave me a call to say that he made his steering box on his e34 540 feel more like a rack and pinion, I had to go check it out.
To be precise, Taylor had made two changes to his car one Saturday: He fitted a set of fixed mount camber plates, and a set of bump steer spacers. With his new alignment settings, he claimed his car handled noticeably better.
The camber plates are the Ireland Engineering bolt-on variety. They are fitted by bolting them on top of the existing stock rubber strut mount. Once fitted, you can add or subtract 1.25 degrees of camber depending how you orient the plates in the strut tower. For a street car, this adjustment range should work fine as tire life is still a concern. It should also be noted that Taylor's car is already lowered a little over an inch on a set of H&R Sport Springs, so camber has naturally been gained from the drop as well.
The bump steer spacers Taylor bought are AKG units. In his case, he opted for the 1 inch version. What these effectively do is return the tie rod and control arm geometry closer to stock. In this case, Taylor's car is lowered roughly an inch over stock, so the suspension geometry is angled accordingly. The bump steer spacers get sandwiched between the bottom of the strut housing and the tie rod end plate. This way the car can remain lowered from stock while correctly compensating for the steering components as well. The ultimate goal of these plates is to eliminate the darting steering sensation caused by inconsistencies in the road without any steering input. More detailed explanations can be found online for those who want to delve further.
A phone call and one Hawaiian shirt later, Taylor came to pick me up and we went to test drive his latest additions to the car. Immediately I noticed the car's steering inputs were more responsive to steering wheel inputs. As Taylor had explained to me, the car was "lighter on its feet." After a few laps around town, we hit up our favorite backroad too see if the new suspension bits really made a difference. Since the roads around our town are in dire need of repair, there's plenty of dips and bumps. To get through these rough spots in the past, you'd have to fight the steering wheel like an arcade game. This is where the bump steer spacers proved their worth, as now the car was substantially more planted over these bumps. A little correction here or there for the serious potholes, but otherwise the 540 just sailed through without a hitch.
My take on these bits? The camber plates were not a bad idea, but not completely necessary either. For Taylor's driving style, I see the need for the added bit of camber. Part of this I feel has to do with the square set up of 245 tires, so the car's steering feel is going to feel a little numb in exchange for a wider contact patch. Downsizing to a set of 235 or 225 tires could help to sharpen steering feel, but you'll lose a bit of grip. I thought the bump steer spacers were well worth the money though. Suspension tuning is a tricky business, and people often throw parts at a car without upgrading the entire package to compensate. The 5 still drives like it has a steering box,  but it has much better feedback than before. Being able to have a lowered car that predictably responds to road surfaces is much more rewarding to drive than simply slamming a set of coilovers to the ground and cranking up the rebound to full stiff. Otherwise there's no point making a street car have a sporty suspension if you can't use it where it was intended.
-JC
Here are the links to parts used in this article:
Ireland Engineering Fixed Camber Plates